Google Classroom Updates and Online Resources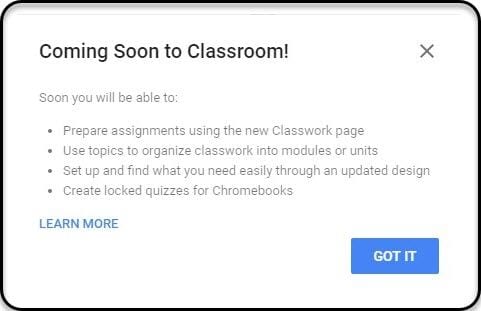 The 2018-19 school year holds many exciting opportunities, including the 1:1 Chromebook initiative for all students in grades 3-10 and expanded access via carts and "Bring Your Own Device" (BYOD) for grades K-2 and 11-12, all part the district's commitment to Digital Convergence.  One advantage of 1:1 Chromebooks is the opportunity to provide an online structure using Google Classroom.
This summer Classroom has undergone some enhancements, including the option to create "locked" quizzes.  This feature enables paperless assessments!  While in a locked quiz, nothing else can be accessed by the student  (i.e. no Googling for answers). Quizzes are easy to create using Google Forms and offer a variety of configuration options.  Details of the other changes to Classroom are shared in Google's education blog.
There are many "It's All About the G Suite" workshops offered to teachers this summer and Google Classroom is an important part of the focus. Sign-up for these workshops is available through the district catalog in My Learning Plan.  For those who may be out of town or prefer to take advantage of online learning resources, Google Classroom has a brief "getting started" PDF as well as comprehensive online tutorials.